Book Group
is held on the 2nd Thursday of each month at 6:30 in the Local History Room. New members are welcome.

Upcoming titles for discussion are:


2/14/19 In a Dark, Dark Woods by Ruth Ware
3/14/19 The Great Alone by Kristin Hannah
4/11/19 The Woman in the Window by A.J. Finn
5/9/19 The Forgetting Time by Sharon Guskin
6/13/19 Little Fires Everywhere by Celeste Ng
7/11/19 The Nightingale by Kristin Hannah
8/8/19 One Hundred Summers by Beatriz Williams
9/12/19 Killers of the Flower Moon: The Osage Murders and the Birth of the FBI by David Grann
---
POSTPONED TO MARCH 5th
Who Doesn't Like Friendly's?
Friendly's historian, Rose Slate, will be here to discuss Friendly's founders, the evolution of its ice cream, menu and restaurants; and the company's influence on the state and popular culture. Rose will be bringing new ice cream products and coupons for every audience member! She'll also play some Friendly's trivia with prizes for the winners! REGISTER ONLINE
---
Albert Einstein - Relatively Speaking
Tuesday, February 26th @ 6:30-8:00 pm in Dexter Hall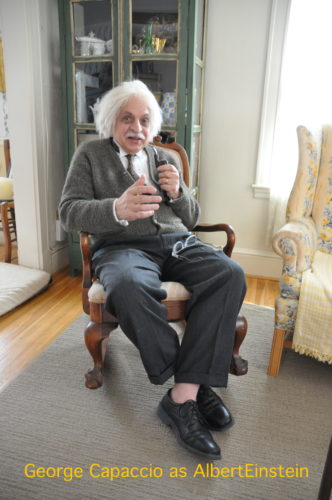 In this one-hour interactive performance, actor and storyteller George Capaccio invites you to enter the boundary-breaking universe that is the mind of Albert Einstein. You will discover that time and space are inseparable, that time actually slows down the faster you go, and that if you could travel at the speed of light, time would actually stop!
But there's a lot more to the story than Einstein's insights into the nature of reality. George focuses on the great scientist's very human qualities, including his sense of humor, his fondness for jokes, and his trials and tribulations as a family man.
As part of the show, you'll time travel with George on the trajectory of Einstein's life — from lowly patent clerk in a Swiss office to world-class physicist.
---
ROBIN WILLIAMS
.... ALMOST
Friday, March 29th @ 6:30 pm in Dexter Hall

Spend an evening with America's premiere Robin Williams tribute artist, Roger Kabler. You will feel that you are in the presence of one of the funniest and most heralded comedic icons of the 21st century. Robin was not only a wonderful actor and stand-up comedian, but a philosopher and humanitarian.
The show you will see is funny, poignant and sometimes just a wild ride through the mind of a lovable madman. Robin seemed to be teetering on the edge of childlike innocence, and if you never had the chance to see him in concert, now is the time.
Tickets are $5.00 in advance; $10 at the door. All proceeds benefit the Friends of the Charlton Library.
---
10 Minute Tutorial
Learn how to access the free online & digital services offered at the library!
Snacks will be provided. All programs are held in the Local History Room.
Registration is appreciated!
Don't forget to bring your favorite smart device & power cords with you if you have one!
To sign up, please click on REGISTER after the class you are interested in or visit the Event Calendar. Sign up for one or all of them!
2019 Dates Coming Soon!
---
Join local instructor Linda Davis for Community Yoga at the Library on select evenings in Dexter Hall.
All ages and levels welcome. Children ages 5 and under must have an adult helper at all times. Must bring your own yoga mats.
Upcoming Dates:
Thursday, January 24th @ 6:00 - 7:00 pm
Tuesday, February 12th @ 6:00 - 7:00 pm
Tuesday, March 19th @ 6:00 - 7:00 pm
Tuesday, April 9th @ 6:00 - 7:00 pm
Tuesday, May 21st @ 6:00 - 7:00 pm
Tuesday, June 18th @ 6:00 - 7:00 pm
Bring a yoga mat and wear comfortable clothing. Please REGISTER online for each date through our Event Calendar.
---